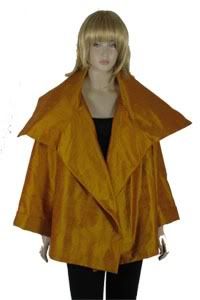 Are you a full-figured fashionista who's dying to stand out this summer? Well, you've made the right move by shopping here at Off Broadway Boutique because we've got just the style staple that'll surely bring that sizzle – our gorgeous gold silk dupioni large size jacket. An exclusive design from our Off Broadway Boutique studio, we made it with the full-figured woman in mind so that she will be able to shine like a star this year!
When constructing this jacket with our generous silk dupioni fabric, we wanted to make sure that the 40+ woman would be able to sparkle in style. This is why we made sure that each of our pieces was unlined – so that the sassy stylista would be comfortably cool in our light jacket. With its ¾ folded sleeves and its wonderfully wide collar, you're destined to make a stylish splash this summer in our large size jacket. What's more; our Off Broadway Boutique design studio can it in any color that you like!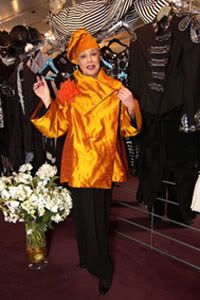 The best part about our radiant silk dupioni jacket is coming up with different ways to wear it. For the forty-something full figured woman such as yourself, it's a wonderful opportunity to flaunt your style savvy. You can wear this jacket with an elegant pin for a romantic night at the opera or pair it with a colorful flower pin during an intimate dinner night. For added pizzazz, our matching silk hat is the perfect complement to this fantastic piece. Whether you'd prefer to wear it open to show off your camisole or closed with a simple accessory, you'll be guaranteed to shimmer like the star that you are this summer!
In turn, we at Off Broadway Boutique pride ourselves in providing luxury duds for the forty-plus woman who symbolizes chic. With pieces like our silk dupioni bolero jacket, we're also giving larger-sized women the chance to flourish fashionably this summer. After all, we believe that every woman of every size deserves to shine like the stylish siren that she is!